The 4 Components of Fire, and 4 Ways to Put it Out | SERVPRO® of Biddeford-Saco
1/21/2022 (Permalink)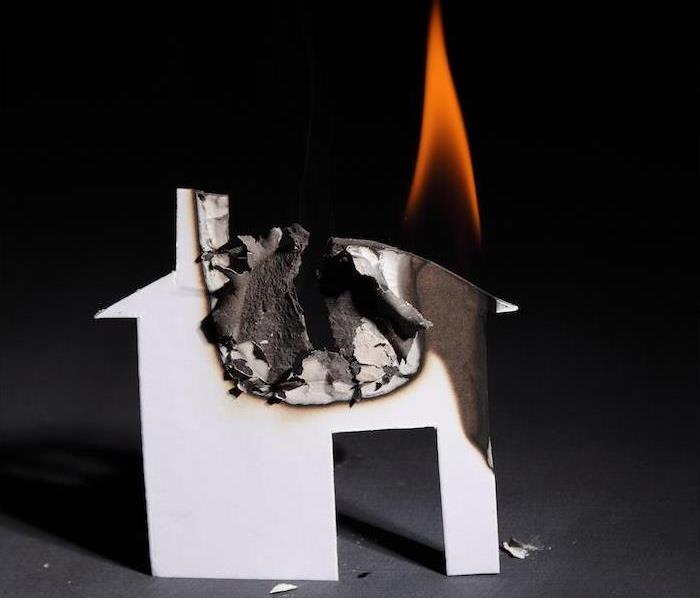 If your home or business has any damage, SERVPRO of Biddeford-Saco is ready around the clock to help you recover.
Quick: What's a tetrahedron? If you don't recall from junior high, it's another name for a pyramid—a three-dimensional, triangular shape with four equal sides.
Why the sudden geometry quiz? Surprisingly, it relates to fire safety.
See, fire needs four components, known collectively as the fire tetrahedron, to occur and survive. Without these elements working together, fire can't start—and on the opposite side of that coin, counteracting these elements is key to putting a fire out.
The 4 Things a Fire Needs to Live

Fuel—something to ignite. There has to be something to burn. This can be organic or inorganic material—woods, plastics, fibers and much more are all perfect fuel sources for fire.

Heat—enough to cause combustion. The amount of necessary heat varies from substance to substance, but almost everything has a threshold at which it will either ignite or melt.

Oxygen. Fires react with nearby oxygen to produce an expanding series of chemical reactions; in other words, oxygen feeds the fire so it can continue to grow, generating products of combustion (like smoke and carbon monoxide) in the process.

Chemical Chain Reaction. The continual cycle and feeding of heat, fuel and oxygen combine to produce a chain reaction, which will perpetuate the fire as long as it goes undisturbed. In other words, the chemical reaction is the natural force of the fire that, once started, will continue until something affects its ability to proceed.

The 4 Ways to Stop a Fire

Cool it. This is likely the first thing you think of. Buckets, gallons or hoses full of water are often the solution, used to cool the fuel (the burning material) to a point at which combustion is no longer possible. Cooling the material to a thermal balance means the rate at which heat is generated can't compete with the rate at which the heat is lost. Some water will evaporate or boil, so a great deal of it must be used to adequately cool the fuel.

Smother it. If a fire can't breathe, it can't live. The process of smothering a fire is one of depriving it of the oxygen it needs to continue. This can be as simple as snuffing a candle, or as complicated as introducing carbon dioxide into the fire's vicinity, which chemically suffocates the oxygen.

Starve it. If a fire burns with no outside interference, this is the likely natural end. It will burn until it runs out of adequate fuel—be it grass, wood or other material. The proactive method for starving a fire, then, is removing a fire's fuel source while it's still trying to consume it. For example, if a fuel tank is on fire, the fuel can be drained from it. In the case of a wildfire, a containment can be attempted by actually burning and scorching areas on purpose, to create a boundary of starvation for the fire.

Interrupt the chain reaction. Chemical agents such as halon can effectively put a stop to fire by chemically disrupting the reaction that multiplies to keep a fire going. While halon itself is very effective and safe around humans, it has an elevated potential for ozone depletion, thus making it an environmental threat. For this reason, its production has been halted, though the existing supply is still legally bought, sold and sometimes recycled.

If the fire tetrahedron makes a wreck of your home or business, we're ready around the clock to help you recover. Contact SERVPRO anytime for fast, thorough cleanup and recovery after a fire.