Why Your Business Needs the SERVPRO Emergency Ready Plan | SERVPRO® of Biddeford-Saco
2/17/2022 (Permalink)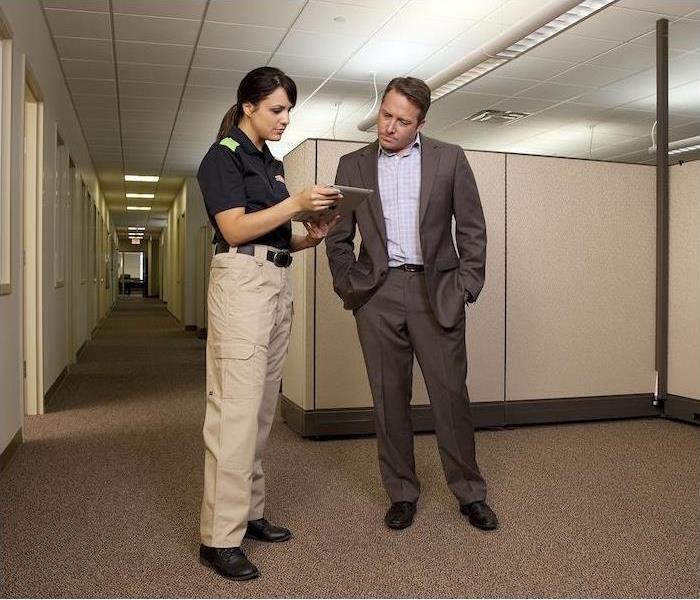 If the day comes where your business is hit with disaster or emergency, you can rest assured SERVPRO of Biddeford-Saco will be there to help.
Running a business is a full-time job. Scratch that—running a business is often an overtime job.
You have to maintain staff, meet payroll and keep up with an ever-changing landscape, all while competing in the marketplace, trying to innovate and present yourself well on social media. It's a lot, and it's a very tight rope to walk.
That's why it often only takes one business disruption to take a business off its tracks for good. According to FEMA, 40% of small business don't reopen after a natural disaster stops business, and another quarter of those that do are forced to close within a year.
And now faced with a business horizon that includes the immediate memory of pandemic shutdowns and concerns about the future, it's more important than ever for businesses to have an effective plan in place in case of an emergency or disaster. Three-quarters of all small businesses don't have a plan in place and that has to change.
SERVPRO is proud to help businesses in our area get ready and stay ready by creating an Emergency Ready Plan. We'll help you through evaluation of needs and concerns particular to your location and industry.
We'll cover everything from natural disasters to data recovery and backup, so that should the day ever come where your business is faced with disaster, you hit "go" and the plan goes to work to minimize downtime and impact. You and your teams will know the chain of command, what to do and when, alternative vendors and work locations, and much more.
Don't let poor disaster planning make your business road any tougher than it already is. Let your local SERVPRO experts get you on track with an Emergency Ready Plan. It can be the difference that makes your business one of the survivors, not one of the victims, of a disruption.
When your business is ready to prioritize planning and safety to prevent extended downtime, contact SERVPRO to get the Emergency Ready Plan underway from the folks who know all there is to know about disaster and recovery.